Be prepared when disaster strikes with our cloud backup offering. We have partnered with BackBlaze to ensure your data is always protected. This robust offering is great for everything from a single PC to a full business. BackBlaze lives the mantra, "Back up, before you wish you had."
Get started with a
free trial
, or
download
BackBlaze now!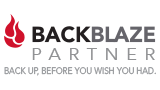 Need more than 5 licenses?
Contact us
for special pricing!
Backblaze takes data security seriously. Not only will they automatically backup all your files but an unlimited number of files, unlimited file size, unlimited speed*. All data is stored in secured data centers with 24-hour staff, biometric security and redundant power. Your data is always encrypted and you can even encrypt your data with a personally provided key. The restore process can even be protected by dual-factor authentication (2FA). *Speed may be limited by customer's internet bandwidth.
Speaking of restores, you can download 1 file or all your files anywhere in the world, even to mobile devices. Needing a larger file set? Have a USB flash drive or an external disk drive drop-shipped directly to you. Return the drive within 30-days for a no-cost restore.
Backblaze is supported for a wide array of devices. Windows, Mac, Linux (via Backblaze B2), iOS and Android.
Still unsure about BackBlaze? Don't take our word for it, read the read the reviews.
Additional features include:
Restore multiple versions up to 30 days
Locate a missing or stolen computer
Be notified of your backup status
Auto throttling or set your own upload limit
Give the gift of data protection with a gift code